Thank you for visiting our brand new web site! We now have much more available for you to see about our artwork, and how we can create a personalized portrait of your favorite animal or botanical in pastel!
The Onlne Gift Store is now available! We have prints and other gifts available for online purchase through our new online gift store! Affordable Holiday gifts for the animal lover you know!
You can see more about who we are on the About the Artist page. Also, feel free to check out some of the wonderful Testimonials that other clients have graciously provided about the artwork we've done for them. And see Mary Ann on the Good Day NM show!
AND, feel free to check out Mary Ann at these upcoming shows and events!
See the Video from Good Day NM!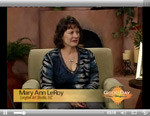 Originally aired Thursday, Jan 6th, 2011
Ultimate Home Showcase
March 19th, 2011 - 10am-5pm
March 20th. 2011 - 10am-4pm
EXPO Fairgrounds. Albuquerque NM